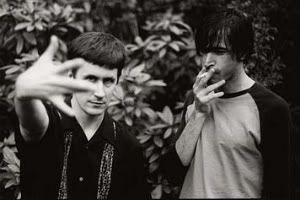 As of like an hour or so ago, I'm officially on vacation from work for a week and the first order of business is to go see the Mountain Goats (pictured above) and John Vanderslice (not pictured above) up at Kenyon College later today and rock out to some super depressing songs (the second order of business is to start classes on Tuesday as part of my seemingly neverending quest to actually finish college and get one of those things called a degree)! I had to stop looking at set lists for this tour on the Mountain Goats website forums or else I would have been super jealous of people who can afford to travel the country seeing his awesome shows. There was kind of no reason to take a vacation from work but it's John Darnielle motherfuckers! I clearly may need the time off to obsess over him. There was this New York magazine article about him and his weirdo fans that came out about a month ago and seriously, I kind of heart him (and his weirdo fans) a ton.

If things work out, on Monday night I'll be seeing Heartless Bastards and the Gaslight Anthem at the Newport, though that's a bit iffy at the moment and I may not go. Had I made a post about my favorite albums of last year at some point in time you would know that The '59 Sound by the Gaslight Anthem was so my favorite album of last year. It's sort of in that whole pop-punk vein, but it's amazing? Rolling Stone described it as Against Me! multiplied by Bruce Springsteen which is semi-apt. I love it. But I won't be heartbroken if I don't see them, like I would be if I missed this whole John Darnielle affair tonight.

Oh my god, I was totally planning on seeing Franz Ferdinand in May for my birthday, but it's sold out! I kind of wasn't sure why they were playing such a small venue - it's at the same place the Gaslight Anthem are playing - but I figured they just weren't as popular as I assumed they were. I was kind of ridiculously excited to see them too.

That's it on the concert front, which is probably the only front in my life that's interesting at the moment (I'm maybe seeing Kelly Clarkson at the Ohio State Fair this summer, because I kind of think she's awesome). If I'm not too paranoid about looking stupid, I might take some videos of John Darnielle or John Vanderslice tonight and be like, "Look at my cool videos!" And if I'm not too paranoid about spending all my money on concerts, I might buy a ridiculously expensive ebay ticket to the Franz Ferdinand show.